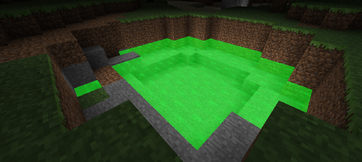 A bright, translucent, glowing green fluid that flows faster than water, deals damage to any entity that comes into contact with it, and is the foundation of the crafting system in PlasmaCraft. It appears rarely in lakes on the surface, or more commonly in caves. When Acid comes into contact with water, Clay will form, replacing the water in contact with the Acid.
Acid Goop
Edit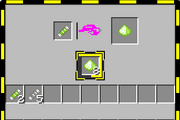 Acid can be turned into a goop once you pick it up using a Vial and cooking it in the Plasmificator. You can use this goop for fueling the Plasmificator for 5 uses. Also this goop can be cooked again and turn into Plasma.
The goop is used to make the Acid Grenade, Acid Launcher, and Acidic TNT.
Ad blocker interference detected!
Wikia is a free-to-use site that makes money from advertising. We have a modified experience for viewers using ad blockers

Wikia is not accessible if you've made further modifications. Remove the custom ad blocker rule(s) and the page will load as expected.