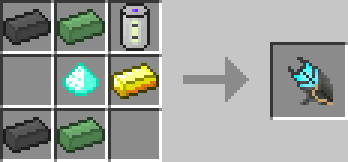 The Rail Gun fires very fast projectiles, it does very high damage. The projectiles create fire.
It has a small chance of recycling the ammo.
Pierces through creatures and blocks. (1 shot 4 pigs.)
Ammo: Overcharged Caustic Battery
To create a Rail Gun you require 2 Obsidium Ingots, 2 Plutonium Ingots, 1 Plutonium Goop, 1 Plasma-Charged Caustic Battery, and 1 gold ingot.
Ad blocker interference detected!
Wikia is a free-to-use site that makes money from advertising. We have a modified experience for viewers using ad blockers

Wikia is not accessible if you've made further modifications. Remove the custom ad blocker rule(s) and the page will load as expected.